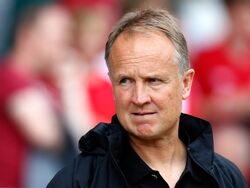 Doncaster Rovers
Edit
O'Driscoll left Bournemouth in September 2006 to become manager of Doncaster Rovers. He made a rather steady start to his career at Belle Vue, including many draws. Notable events early in his career with Doncaster include a 4–0 victory away at Brentford, winning the manager of the month award for January 2007, and also overseeing Rovers' 3–2 success over Bristol Rovers in the Football League Trophy final in 2007. This success meant that O'Driscoll had achieved the rare feat of managing two different teams to victory at the Millennium Stadium.
In O'Driscoll's first full season in charge, 2007–08, he steered Doncaster to promotion into the Championship after a 1–0 victory over Leeds United in the League One play-off final at Wembley Stadium. The following season, 2008–09, saw his side initially struggle to adapt to the demands of the Championship, but they ended up 14th, comfortably clear of relegation.
For the following season and a half, O'Driscoll turned Doncaster into a comfortable mid-table team on one of the tightest budgets in the Championship. However, a plethora of injuries in the second half of the 2010–11 season (which at one point even saw the club request to postpone a match with Norwich City because they were struggling to field a first 11.) saw Doncaster go on a dreadful run of form winning just one of their final 19 matches of the season, though they still survived due to their good form over the first half of the season.
O'Driscoll could not inspire a comeback during the start of the following season and on 23 September 2011 with Doncaster taking just a single point from their first seven games, it was confirmed that O'Driscoll, along with his assistant Richard O'Kelly, had been relieved of their duties by Doncaster Rovers.